Travels
03/14/2011 09:00 PM Filed in:
Blog
Friday Ashlee and I rode to Macon for her Teacher of the Year interview. She had to go to the Bibb County Board of Education office and give an in-person interview to judges and the former Teacher of the Year. It was pretty cold in Macon Friday. It was odd, Saturday warmed up like it was a beautiful Spring day. Nonetheless, she said that everything went well in the interview and I know she did great. She has to give one more speech on April 1st to Georgia Power in Atlanta and she won't know anything until May.
Speaking of my beautiful bride, I just updated her website: www.ashleemitchell.com Check it out!
Okay.... EVERYBODY knows that I'm an Apple fanboy... I have to admit–it's because of reasons like the following story that make me a huge fan.
A week ago I went to the Apple store in Augusta to purchase some new computers for the shop. I also had to purchase a new iPhone because our point of sale software didn't work with my iPhone classic (as Grant likes to call it).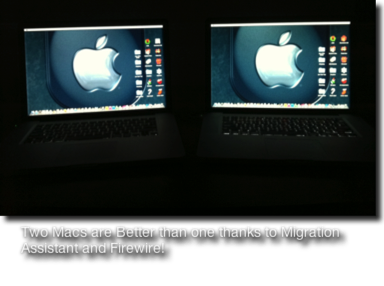 One of the issues I always have when upgrading to a new computer or phone is transferring the data that my previous device had. The guy at the Apple store said that the iPhone was really easy because all I had to do was put my mobile me (Apple) account into the new phone and it would magically transfer my data. I did and it did. Since Mobile Me is Apple's cloud server, it allows any device synced with it to share all the data. It was quite impressive. I kept the same number, transferred all of my contacts, calendars, and preferences in a matter of minutes. Oh yeah... I ACTUALLY have a cell phone signal now too–thanks Verizon!
One thing I've never done before is transfer all of my data from one computer to the newer computer. Sure, I've manually transferred files from a backup but the problem is, the new computer was only about a year old. Needless to say, I still need all of the files. The Apple rep said that "Migration Assistant" would make the transfer a snap. Sure enough...it did. All I had to do was tell the new computer that I wanted it to be exactly like the old computer. It copied every preference, file, font, application, and bookmark on the previous machine. Even the desktop pattern and layout was matched perfectly! The only caveat (and it's a small one) is that it didn't copy a teeny little operating system function called "Rosetta" that I use to run a very old application. It probably didn't think I would need it. It wasn't a problem, upon opening the application, I was prompted to download the app.
All in all, the complete transfer only took about an hour and a half. Not bad for 200 gigs of data. Thank God for Firewire 800!